PREP TIME 15 mins      COOK TIME 45 mins      TOTAL TIME 1 hour
Serves: 4 Servings
INGREDIENTS
Enchilada Sauce
• 2 tbsp extra virgin olive oil
• 2 tbsp flour (I used kamut flour)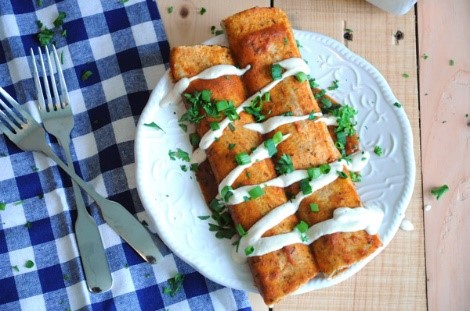 • 1 tsp garlic powder
• 1 tbsp oregano
• 4 tbsp chili powder
• ½ tsp salt
• 1 tbsp tomato paste
• 2 cups vegetable broth
Cashew Cream
• ⅓ cup raw cashews
• 2 tbsp lemon juice
• 1 garlic clove
• ¼ cup water
• ½ tsp salt
• ¼ tsp freshly ground black pepper
Filling
• ½ tbsp extra virgin olive oil
• 1 small yellow onion, diced
• 1 small bell pepper, diced (I used red)
• 1 small zucchini, diced
• 1½ cups cooked black beans (or 1 15oz can)
• ½ cup corn kernels
• ¼ sliced olives (I used black olives)
• 3-4 green onions, sliced
• ½ cup chopped cilantro or parsley (I used parsley)
• Salt & pepper, to taste
• 8 flour or corn tortillas (I used flour tortillas)
INSTRUCTIONS
Enchilada Sauce
1. In a small pot, heat your oil until warm, over low heat, then add in the flour and whisk until there are no clumps remaining. At that point, you can add in your spices, tomato paste and vegetable broth. Whisk until smooth. Simmer for about 10 minutes, or until thickened.
Cashew Cream
1. Add all ingredients to a food processor or high-powered blender and process/blend until very smooth.
Filling
1. Add your oil to a large pan, over medium heat. Once warmed, add in your diced onion, and cook until softened, about 5 minutes.
2. Then, add in the bell pepper and zucchini. Cook for another 5 minutes, or until softened.
3. Add in your cooked black beans and corn, until it's all warmed through. Season with salt and pepper. Remove the pan from heat and set aside.
4. Preheat your oven to 175C and add a big ladle-full of enchilada sauce to the bottom of a 9x13 baking dish.
5. Add about 2 tablespoons of veggies to a tortilla, top with olives, green onion and cilantro/parsley. Roll it up tightly, and place seam-side down in your baking dish. Repeat with remaining tortillas.
6. Pour the enchilada sauce over your enchiladas, making sure to cover everything well.
7. Cover the baking dish with foil, and bake for 15-20 minutes, or until the sauce is bubbling around the edges.
8. Serve with a drizzle of cashew cream, chopped cilantro/parsley, and a few more green onions on top.