Frittazza
Breakfast, Lunch, Dinner, Vegetarian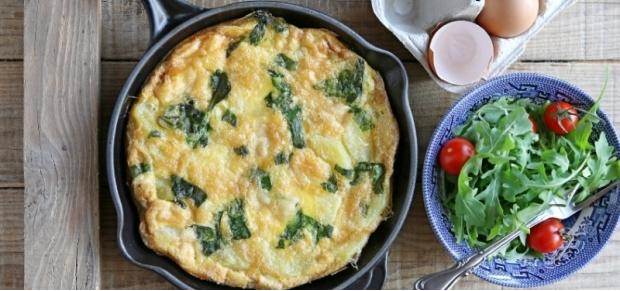 Frittatas are one of my favourite dishes, and I am forever playing around with the endless possibilities of ingredients and flavours. This particular recipe came about due to a craving for pizza (!) and a die-hard commitment to keeping things clean and healthy. So, frittata and pizza gave birth to Frittazza! I promise it will hit the spot. All the flavours are there, just without the crust! And of course, packed with highly bioavailable egg protein… it's a winner for breakfast, lunch or dinner! 
Ingredients (serves 4-6)
12 organic eggs
35g goat's feta
Olive oil for sautéing
½ brown onion, peeled and sliced
100g bocconcini or buffalo mozzarella, sliced
50g semi sundried tomatoes, halved lengthways
5 pitted Kalamata olives, sliced
8-10 fresh basil leaves
Pinch dried chili flakes
Salt and pepper to taste
Method
Preheat oven to 180°C.
Crack eggs into a mixing bowl and beat. Add the feta and season with salt and pepper. Set aside.
Heat a little olive oil in a deep oven proof frying pan approximately 28cm diameter. Add the onion and sauté for 3 minutes or until translucent.
With the frying pan still on medium heat, pour the egg mixture on top. Arrange the bocconcini (or buffalo mozzarella), sundried tomatoes, olives and basil leaves on top. Sprinkle with chili flakes.
Transfer pan into the oven and bake for 20 minutes, or until eggs are cooked through.
Remove from oven and allow to cool slightly before serving.
---