PREP TIME 10 mins      COOK TIME 60 mins      TOTAL TIME 1 hour 10 mins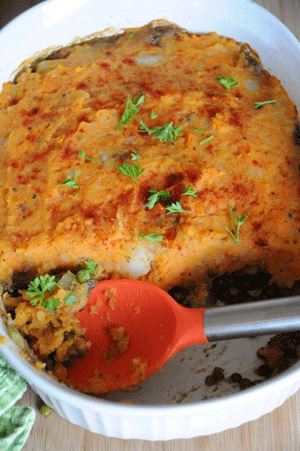 Serves: 6
INGREDIENTS
• 4 medium sweet potatoes, peeled & chopped into small pieces
• 1 tbsp extra virgin olive oil
• ½ cup diced celery
• ½ cup diced onions
• 1 large garlic clove, minced
• ½ cup diced carrots
• 4½ cups cooked lentils
• 2 cups diced tomatoes
• 2 tbsp soy sauce
• 2 tbsp non-dairy milk (I used almond)
• Salt & pepper to taste
• paprika & fresh parsley, for garnish
INSTRUCTIONS
1. Preheat oven to 175C.
2. Steam your sweet potatoes and set aside.
3. While the sweet potatoes are heat a large pan over medium heat. Once warmed, add a tbsp or so of oil, then add in the diced celery, onion, garlic, tomatoes and carrots. Cook for about 5 minutes, or until softened.
4. Add the cooked lentils and soy sauce to the veggies, and heat until warmed through.
5. Once your sweet potatoes are finished steaming, mash with the non-dairy milk some salt & pepper.
6. Scoop the lentil & veggie mix to the bottom of a 9x13 baking dish, then spread the mashed sweet potatoes over top and spread in an even layer.
7. Bake for about 25 minutes, or until the top has browned lightly. Sprinkle with a bit of paprika and fresh parsley, if desired. Serve warm.