Exotic Kale Sale Recipe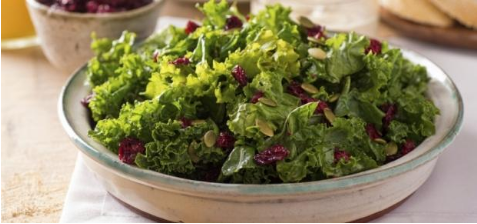 Kale salad recipe is full of all the goodness you would want to find in a dish. It is outrageously and scrumptiously delicious!  Kale is low in calorie, high in fiber and has zero fat. One cup of kale has only 36 calories, 5 grams of fiber and 0 grams of fat. It is great for aiding in digestion and elimination with its great fiber content. It's also filled with so many nutrients, vitamins, folate and magnesium as well as many more proven health benefits
Ingredients
2 bunches of chopped kale (curly kale tends to be that bit sweeter)
1 Capsicum diced
1/2 cup cherry tomatoes
a handful of pumpkin seeds
a handful of sultanas
Dressing
1/4 cup water
2 tsp fresh ginger
4 garlic cloves
1/4 cup lemon juice
4 pitted dates
2 tbs curry powder (optional)
pinch pepper (optional)
1/4 cup olive oil
Method
In a bowl combine the ingredients of the salad, except seeds and sultanas.  
Set aside and make the dressing by placing the dressing ingredients in a high powered blender and processing until smooth and liquidy.  
Pour the dressing over the prepared salad and let marinade for 2 hours or so, or until the kale is soft.  
Enjoy!