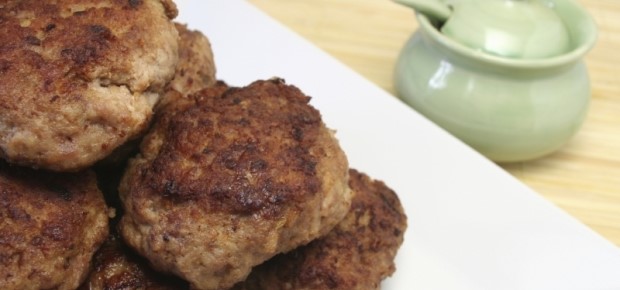 (WHEAT-FREE, GLUTEN-FREE, HIGH PROTEIN, DINNER)

Ingredients (makes ~ 12 patties)
2 large leeks, trimmed, well washed and roughly chopped 
500g grass-fed minced beef 
150g almond meal 
3 organic eggs, beaten 
2 teaspoons good quality fine salt 
Cracked black pepper to taste 
Organic ghee for pan frying 
200-300 ml vegetable or chicken stock 
120 ml fresh lemon juice 
Freshly chopped parsley
Method
Steam the leeks for approximately 20 minutes, until completely soft. Place leeks on a clean tea towel and roll it up to soak up excess liquid. Transfer the leeks to a food processor and pulse (not too long as you don't want mush). 
Place the meat in a large mixing bowl, along with the leeks, almond meal, eggs, salt and pepper. Mix to combine well. Shape the mix into balls (roughly 80g) placing them on a large plate and slightly flatten them into patties. Refrigerate for 30 minutes. 
Heat up about two teaspoons of ghee in a frying pan over medium-high heat and sear patties on both sides until golden brown. You will have to do this in a few batches, depending on the size of your pan. Wipe the pan in between batches and re-oil the pan. 
In a large deep pan for which you have a lid, over medium heat, place the patties (they can be nice and snug). Pour over enough stock to almost cover the patties. Add the lemon juice. Bring to the boil, reduce the heat, cover and gently simmer for 30 minutes. 
Remove the patties from the remaining liquid. 
Serve warm and garnish with parsley