Roasted Carrot and Garlic Dip
GLUTEN-FREE, WHEAT-FREE, DAIRY-FREE, SNACK, CONDIMENT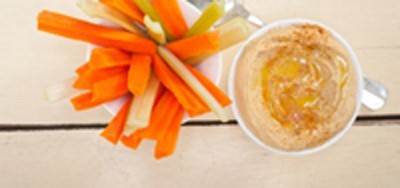 A simple dip to enjoy with wholesome crackers, cucumber sticks, a nut loaf or even as a side to a main meal. Tahini contributes protein and essential fats to this dip, making it hearty and sustaining.

INGREDIENTS
500g carrots, sliced
3 garlic cloves, peeled and smashed
½ teaspoon ground cumin
1 tablespoon extra virgin olive oil
A couple of pinches of salt
Cracked pepper to taste
¼ cup hulled tahini
1 tablespoon apple cider vinegar
½ teaspoon salt
1/3 cup filtered water  
METHOD
Preheat oven to 180°C.
Combine the carrots, garlic, cumin and olive oil in a baking dish. Add a couple of pinches of salt and cracked black pepper to taste. Use your hands to evenly coat the carrots. Bake for 40-50 minutes until soft, tossing the carrots occasionally.
Remove carrots from oven and allow them to cool slightly. Transfer to a food processor.
Add in the tahini, apple cider vinegar and salt and process for a minute or so. With the motor still running, gradually add in the water and continue to process for another few minutes, until smooth.
Store in the fridge for 3 days.
---